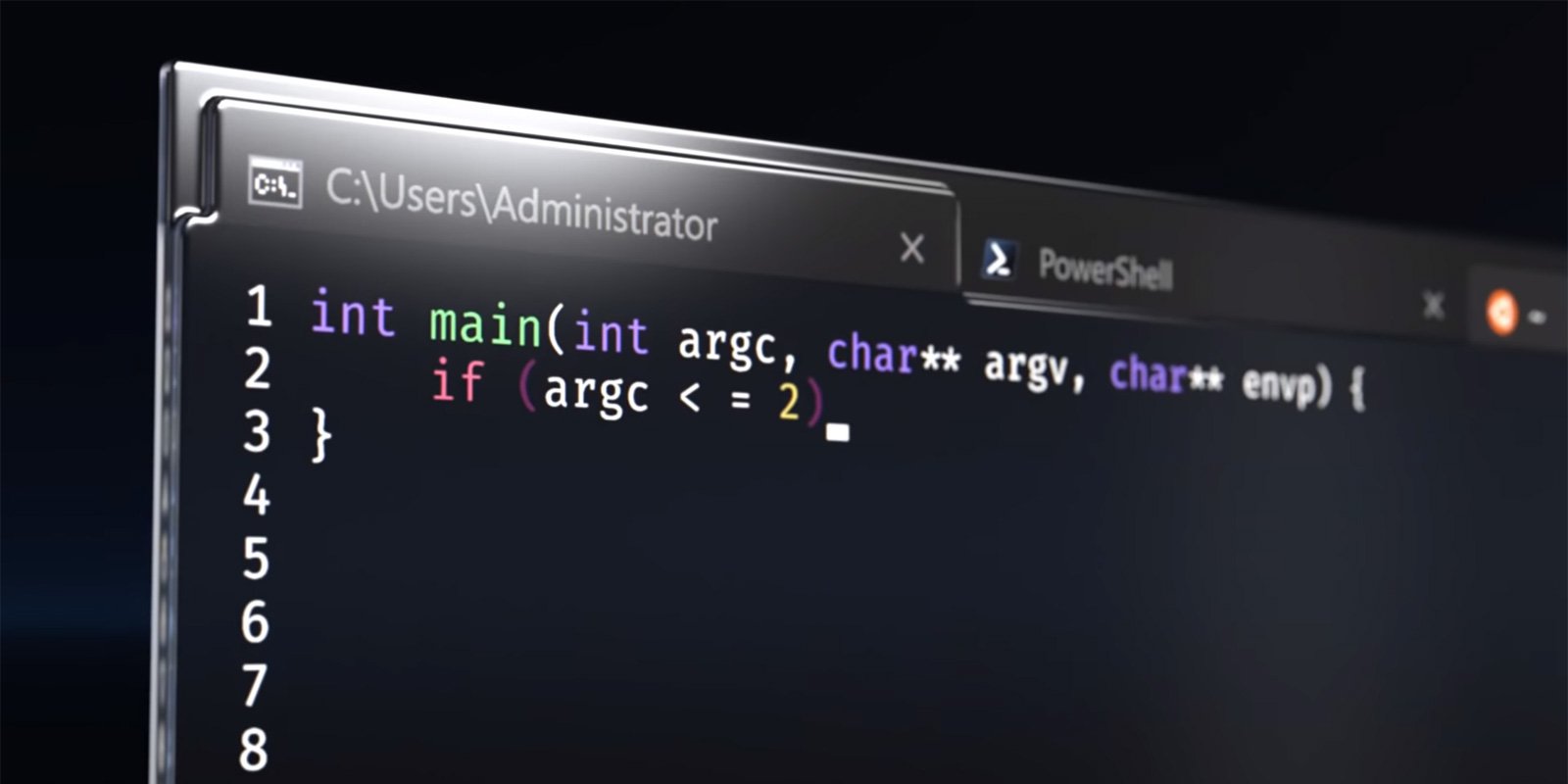 Microsoft released Windows Terminal Preview v1.5 this week, and it comes with some useful improvements, including full support for clickable hyperlinks, command palette improvements, emoji icon support, and more.
For those not familiar with Windows Terminal, it is an open-source multi-tab console application developed by Microsoft that allows users to have multiple console tabs open in one window. These tabs can be a mix of CMD prompts, PowerShell consoles, and WSL Linux shells,
Below we have outlined the major features added in Windows Terminal Preview v1.5.
Full hyperlink support in all consoles
In Windows Terminal v1.4, Microsoft added basic support for clickable hyperlinks in console windows. This support was not very practical as it required the links to be displayed in a special manner for them to be recognized as clickable URLs.
With Windows Terminal v1.5, Microsoft has now added full hyperlink support to automatically detect when output is an URL and automatically make it clickable.
As you can see below, the Windows Terminal README file contains numerous URLs to documentation about the project. If you hover your mouse over an URL, an underline will be displayed indicating it can be clicked, and a tooltip will be shown, stating to click Ctrl+Click to open the link.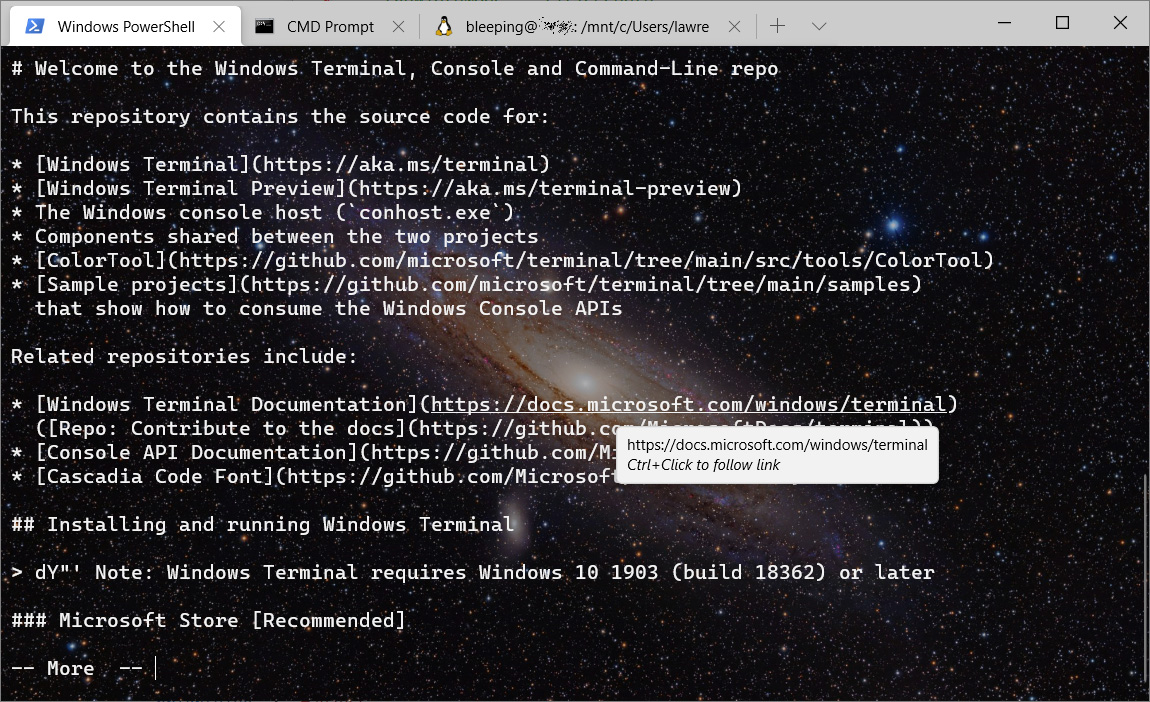 In our tests, hyperlink support worked in all of our consoles, including WSL shells, CMD prompts, and Azure Cloud Shells.
Use emojis as profile icons
If you ever wanted to set your profile icons to emojis, you can now do so using Windows Terminal 1.5.
As you can see below, when assigning an emoji as console profile's icon, they will display both in the profile list and the tabs.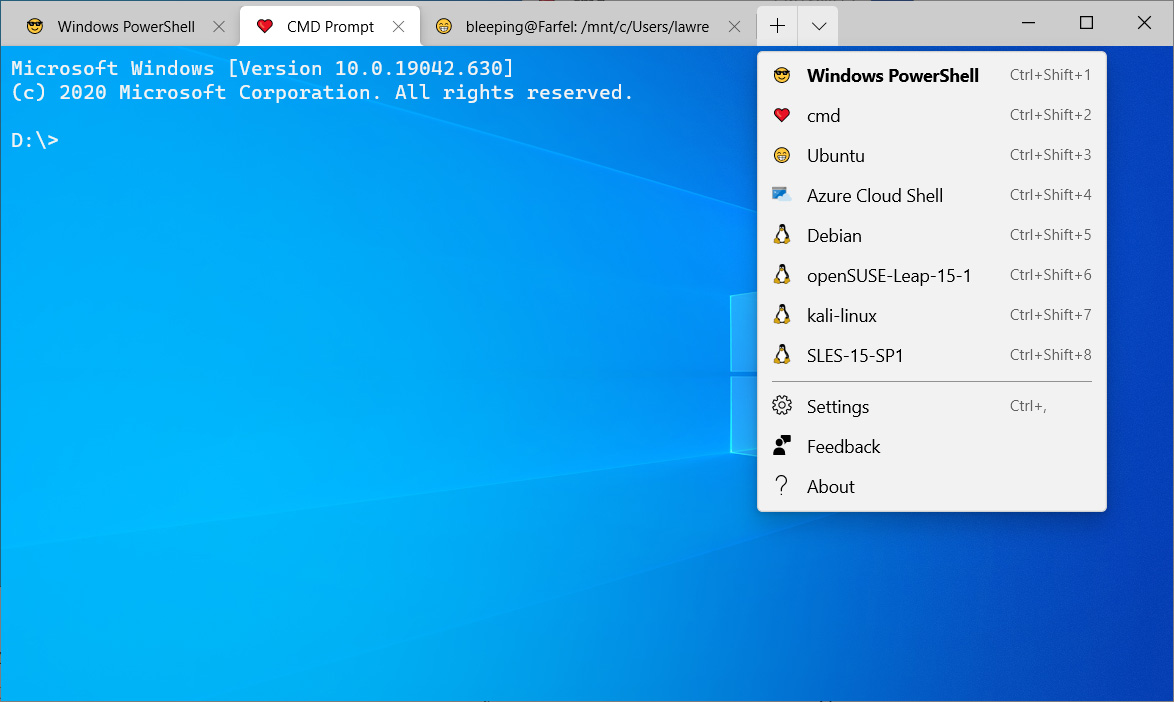 To add an emoji as an icon, add a new "icon": "[insert emoji]" setting line to your profile settings. When editing the settings file, make sure to save the file as UTF-8 or Unicode, or the emoji will be stripped, and Windows Terminal will display an error.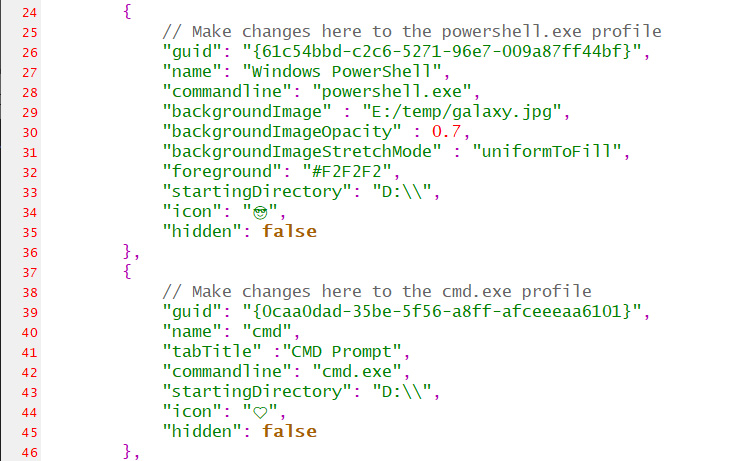 Emojis are still not supported in the Windows 10 jumplists, and a blank space will be shown instead.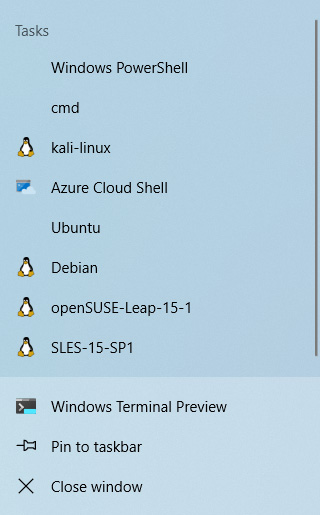 Command palette mode now matches VS code
In previous versions, when you use the Ctrl+Shift+P keyboard combination to open Windows Terminal's command palette, it would open to the 'action mode' where you can select a command to execute.
The Command Palette is a dialog box that displays the various actions you can perform in Windows Terminal.
If you want to enter a command to execute in the console, you could press the '>' character to enter command line mode.
With Windows Terminal 1.5, the '>' has been reconfigured to match VS Code's command palette and will now be used to open the 'action mode.' To go back to command line mode, simple backspace and remove the '>,' as illustrated in the image below.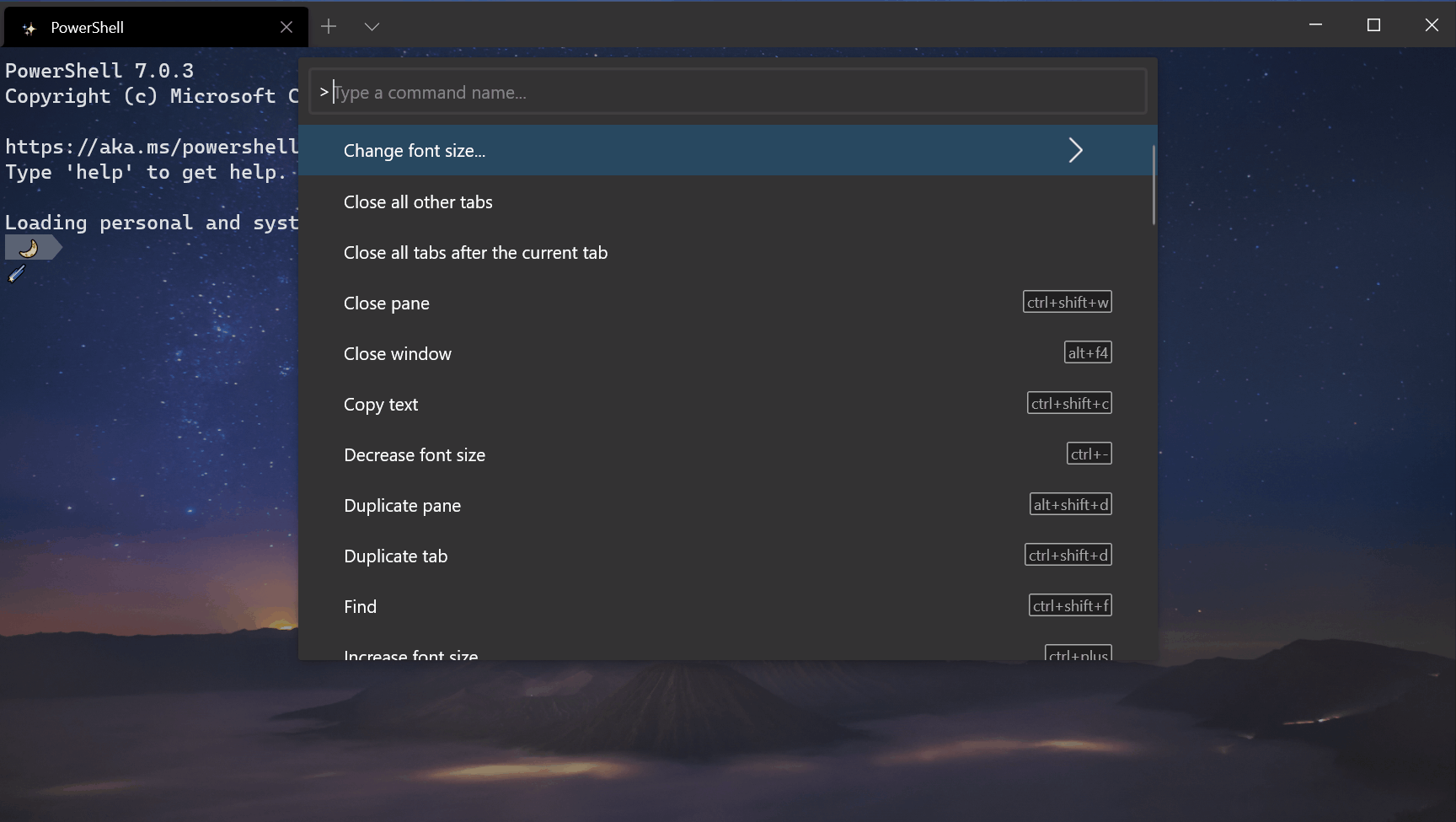 Other changes in Windows Terminal 1.5
The Windows Terminal 1.5 preview also comes with some additional features, which we have outlined below.
Bell sounds support:
If you are the type of person who likes to subject themselves to torture, Windows Terminal 1.5 now supports the BEL character to play audible bell sounds.
The 'bellStyle' setting can control this feature.
"bellStyle": "audible",
"bellStyle": "none"
Use the desktop wallpaper as the background image
If you want to use your existing desktop wallpaper as the background image for a profile, you can use the following setting in your profile.
            "backgroundImage" : "desktopWallpaper",

Tab switcher improvements
Windows Terminal's tab switcher feature (Shift+P) can now be configured to switch tabs based on the most recently used (mru) or the order they are configured in your profile settings (inOrder).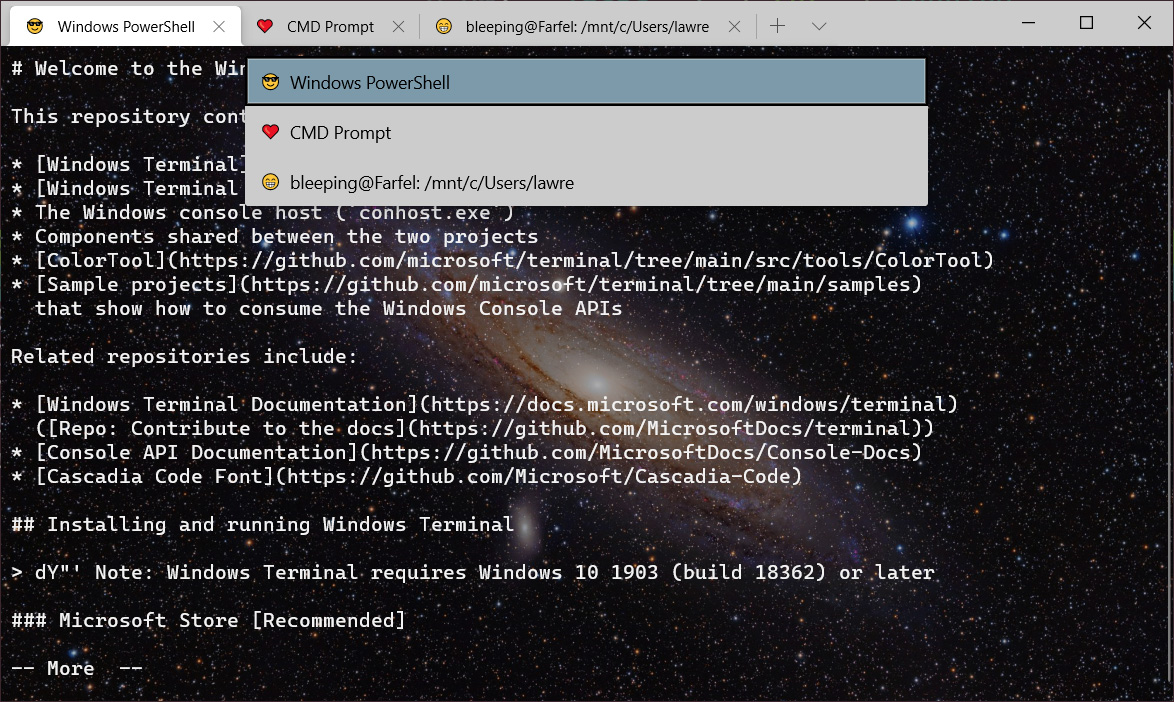 The following settings can control the functionality of the tab switcher:
// Enables the tab switcher
"useTabSwitcher": "mru",
"useTabSwitcher": "inOrder"

// Disables the tab switcher
"useTabSwitcher": "disabled"
Disable open/close tab animations
When opening and closing tabs in Windows Terminal, it is done so using animations.
You can now disable these animations with the "disableAnimations" setting.
"disableAnimations": true
Windows Terminal can now launch into focus mode
Windows Terminal has a "Focus Mode," which will hide all tabs and the title bar.
You can now configure Windows Terminal to automatically launch into this mode using the following settings:
"launchMode": "focus",
"launchMode": "maximizedFocus"
To try out Windows Terminal v1.5, you can download and install it from the Microsoft Store. If you are already running the current release of Windows Terminal, the preview can be installed alongside it.
---
Source: serutaef-gnimocpu-s51-lanimret-swodniw-htiw-no-sdnah/tfosorcim/swen/moc.retupmocgnipeelb.www