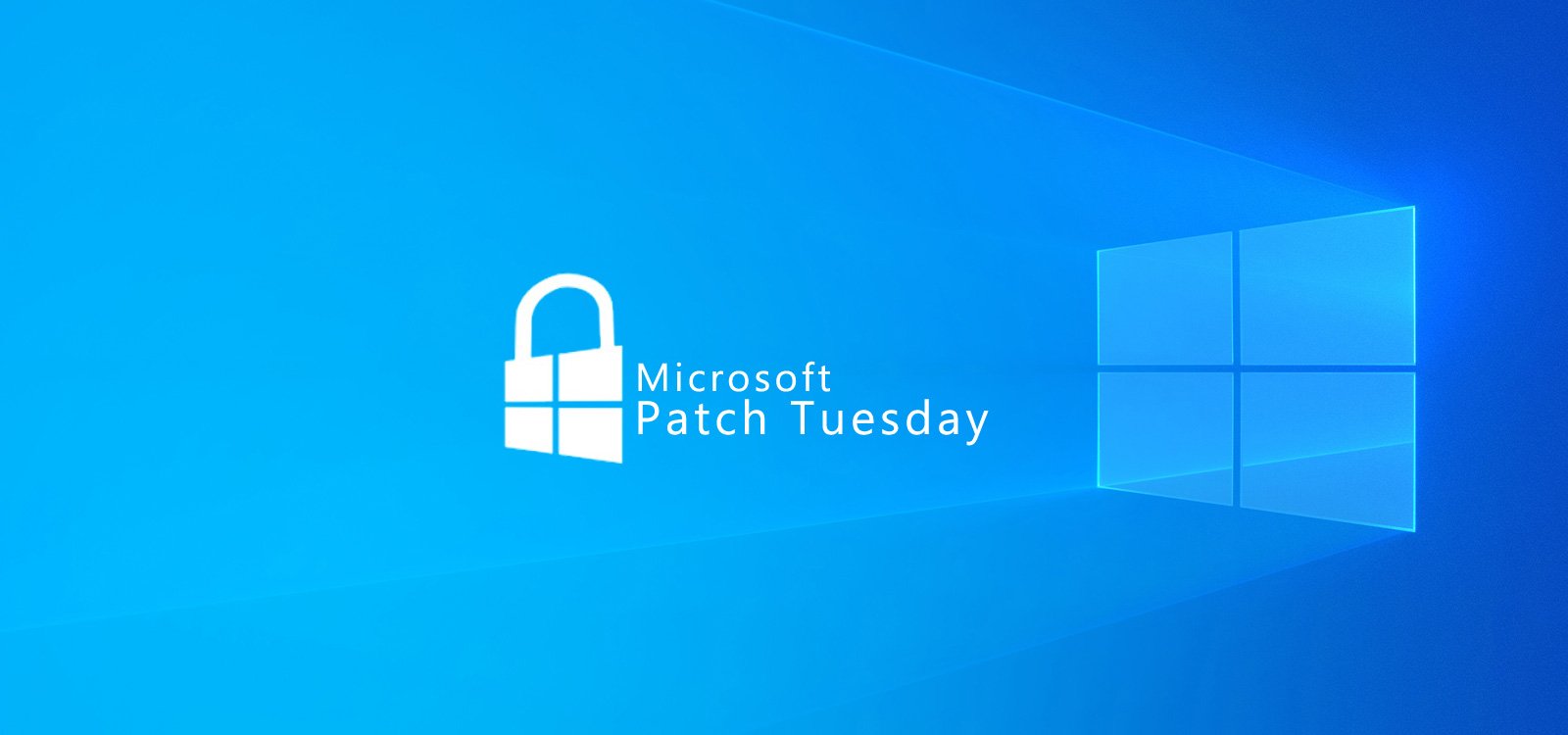 Today is Microsoft's January 2021 Patch Tuesday, and it is the first Microsoft security update release in 2021, so please be very nice to your Windows administrators today.
With the January 2021 Patch Tuesday security updates release, Microsoft has released fixes for 83 vulnerabilities, with ten classified as Critical and 73 as Important.
There is also one zero-day and one previously disclosed vulnerabilities fixed as part of the January 2021 updates.
For information about the non-security Windows updates, you can read about today's Windows 10 KB4598229 & KB4598242 cumulative updates.
Zero-day and publicly disclosed vulnerabilities fixed
Microsoft fixed both a zero-day and a publicly disclosed vulnerability as part of the January 2021 security updates.
Microsoft states that they have fixed a zero-day Microsoft Defender remote code execution vulnerability with a CVE of CVE-2021-1647.
This zero-day vulnerability is fixed in Microsoft Malware Protection Engine version 1.1.17700.4 or later, as shown below. To check the Microsoft Defender engine's installed version, you can use the instructions in this guide.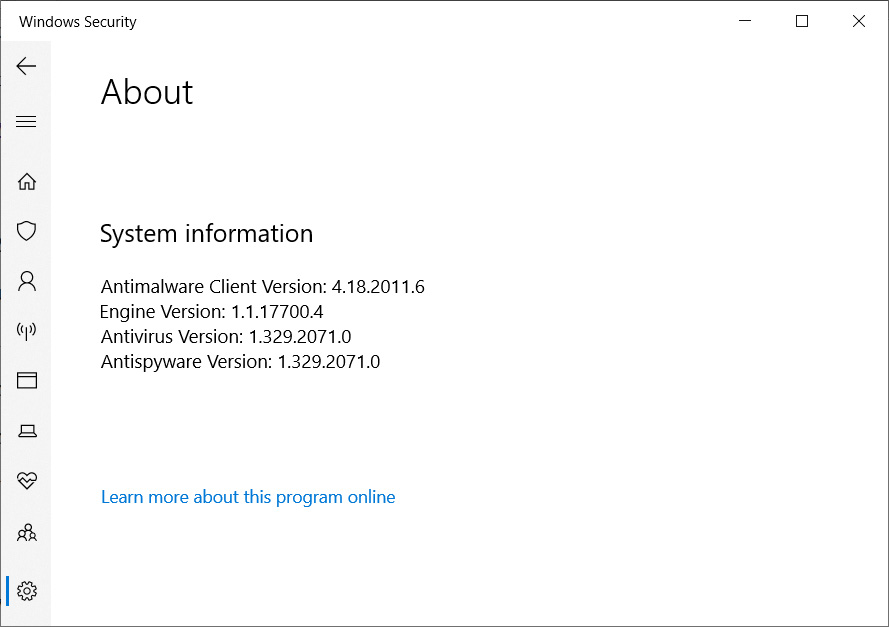 Microsoft also patched a publicly disclosed Microsoft splwow64 Elevation of Privilege vulnerability tracked as CVE-2021-1648. Google Project Zero previously disclosed this vulnerability in September 2020 under CVE-2020-0986.
Micropatch released for PsExec
This month, a free patch for privilege escalation vulnerability in Sysinternals PSExec utility was released by the 0patch service.
PsExec is a free Microsoft Sysinternals tool that allows system administrators to execute programs on remote systems. While it is not bundled with Windows, it is commonly utilized by admins and enterprise software to launch programs remotely, start updates, or perform other administrative tasks.
As it is a common program to found in enterprise environments, this vulnerability could allow attackers to elevate privileges.
Microsoft has not released an official patch for this vulnerability.
Recent updates from other companies
Other vendors who released updates in January include:
The January 2021 Patch Tuesday Security Updates
Below is the full list of resolved vulnerabilities and released advisories in the January 2021 Patch Tuesday updates. To access the full description of each vulnerability and the systems that it affects, you can view the full report here.
| Tag | CVE ID | CVE Title | Severity |
| --- | --- | --- | --- |
| .NET Repository | CVE-2021-1725 | Bot Framework SDK Information Disclosure Vulnerability | Important |
| ASP.NET core & .NET core | CVE-2021-1723 | ASP.NET Core and Visual Studio Denial of Service Vulnerability | Important |
| Azure Active Directory Pod Identity | CVE-2021-1677 | Azure Active Directory Pod Identity Spoofing Vulnerability | Important |
| Microsoft Bluetooth Driver | CVE-2021-1683 | Windows Bluetooth Security Feature Bypass Vulnerability | Important |
| Microsoft Bluetooth Driver | CVE-2021-1638 | Windows Bluetooth Security Feature Bypass Vulnerability | Important |
| Microsoft Bluetooth Driver | CVE-2021-1684 | Windows Bluetooth Security Feature Bypass Vulnerability | Important |
| Microsoft DTV-DVD Video Decoder | CVE-2021-1668 | Microsoft DTV-DVD Video Decoder Remote Code Execution Vulnerability | Critical |
| Microsoft Edge (HTML-based) | CVE-2021-1705 | Microsoft Edge (HTML-based) Memory Corruption Vulnerability | Critical |
| Microsoft Graphics Component | CVE-2021-1709 | Windows Win32k Elevation of Privilege Vulnerability | Important |
| Microsoft Graphics Component | CVE-2021-1696 | Windows Graphics Component Information Disclosure Vulnerability | Important |
| Microsoft Graphics Component | CVE-2021-1665 | GDI+ Remote Code Execution Vulnerability | Critical |
| Microsoft Graphics Component | CVE-2021-1708 | Windows GDI+ Information Disclosure Vulnerability | Important |
| Microsoft Malware Protection Engine | CVE-2021-1647 | Microsoft Defender Remote Code Execution Vulnerability | Critical |
| Microsoft Office | CVE-2021-1713 | Microsoft Excel Remote Code Execution Vulnerability | Important |
| Microsoft Office | CVE-2021-1714 | Microsoft Excel Remote Code Execution Vulnerability | Important |
| Microsoft Office | CVE-2021-1711 | Microsoft Office Remote Code Execution Vulnerability | Important |
| Microsoft Office | CVE-2021-1715 | Microsoft Word Remote Code Execution Vulnerability | Important |
| Microsoft Office | CVE-2021-1716 | Microsoft Word Remote Code Execution Vulnerability | Important |
| Microsoft Office SharePoint | CVE-2021-1712 | Microsoft SharePoint Elevation of Privilege Vulnerability | Important |
| Microsoft Office SharePoint | CVE-2021-1707 | Microsoft SharePoint Server Remote Code Execution Vulnerability | Important |
| Microsoft Office SharePoint | CVE-2021-1718 | Microsoft SharePoint Server Tampering Vulnerability | Important |
| Microsoft Office SharePoint | CVE-2021-1717 | Microsoft SharePoint Spoofing Vulnerability | Important |
| Microsoft Office SharePoint | CVE-2021-1719 | Microsoft SharePoint Elevation of Privilege Vulnerability | Important |
| Microsoft Office SharePoint | CVE-2021-1641 | Microsoft SharePoint Spoofing Vulnerability | Important |
| Microsoft RPC | CVE-2021-1702 | Windows Remote Procedure Call Runtime Elevation of Privilege Vulnerability | Important |
| Microsoft Windows | CVE-2021-1649 | Active Template Library Elevation of Privilege Vulnerability | Important |
| Microsoft Windows | CVE-2021-1676 | Windows NT Lan Manager Datagram Receiver Driver Information Disclosure Vulnerability | Important |
| Microsoft Windows | CVE-2021-1689 | Windows Multipoint Management Elevation of Privilege Vulnerability | Important |
| Microsoft Windows | CVE-2021-1657 | Windows Fax Compose Form Remote Code Execution Vulnerability | Important |
| Microsoft Windows | CVE-2021-1646 | Windows WLAN Service Elevation of Privilege Vulnerability | Important |
| Microsoft Windows | CVE-2021-1650 | Windows Runtime C++ Template Library Elevation of Privilege Vulnerability | Important |
| Microsoft Windows | CVE-2021-1706 | Windows LUAFV Elevation of Privilege Vulnerability | Important |
| Microsoft Windows | CVE-2021-1699 | Windows (modem.sys) Information Disclosure Vulnerability | Important |
| Microsoft Windows Codecs Library | CVE-2021-1644 | HEVC Video Extensions Remote Code Execution Vulnerability | Important |
| Microsoft Windows Codecs Library | CVE-2021-1643 | HEVC Video Extensions Remote Code Execution Vulnerability | Critical |
| Microsoft Windows DNS | CVE-2021-1637 | Windows DNS Query Information Disclosure Vulnerability | Important |
| SQL Server | CVE-2021-1636 | Microsoft SQL Elevation of Privilege Vulnerability | Important |
| Visual Studio | CVE-2020-26870 | Visual Studio Remote Code Execution Vulnerability | Important |
| Windows AppX Deployment Extensions | CVE-2021-1642 | Windows AppX Deployment Extensions Elevation of Privilege Vulnerability | Important |
| Windows AppX Deployment Extensions | CVE-2021-1685 | Windows AppX Deployment Extensions Elevation of Privilege Vulnerability | Important |
| Windows CryptoAPI | CVE-2021-1679 | Windows CryptoAPI Denial of Service Vulnerability | Important |
| Windows CSC Service | CVE-2021-1652 | Windows CSC Service Elevation of Privilege Vulnerability | Important |
| Windows CSC Service | CVE-2021-1654 | Windows CSC Service Elevation of Privilege Vulnerability | Important |
| Windows CSC Service | CVE-2021-1659 | Windows CSC Service Elevation of Privilege Vulnerability | Important |
| Windows CSC Service | CVE-2021-1653 | Windows CSC Service Elevation of Privilege Vulnerability | Important |
| Windows CSC Service | CVE-2021-1655 | Windows CSC Service Elevation of Privilege Vulnerability | Important |
| Windows CSC Service | CVE-2021-1693 | Windows CSC Service Elevation of Privilege Vulnerability | Important |
| Windows CSC Service | CVE-2021-1688 | Windows CSC Service Elevation of Privilege Vulnerability | Important |
| Windows Diagnostic Hub | CVE-2021-1680 | Diagnostics Hub Standard Collector Elevation of Privilege Vulnerability | Important |
| Windows Diagnostic Hub | CVE-2021-1651 | Diagnostics Hub Standard Collector Elevation of Privilege Vulnerability | Important |
| Windows DP API | CVE-2021-1645 | Windows Docker Information Disclosure Vulnerability | Important |
| Windows Event Logging Service | CVE-2021-1703 | Windows Event Logging Service Elevation of Privilege Vulnerability | Important |
| Windows Event Tracing | CVE-2021-1662 | Windows Event Tracing Elevation of Privilege Vulnerability | Important |
| Windows Hyper-V | CVE-2021-1691 | Hyper-V Denial of Service Vulnerability | Important |
| Windows Hyper-V | CVE-2021-1704 | Windows Hyper-V Elevation of Privilege Vulnerability | Important |
| Windows Hyper-V | CVE-2021-1692 | Hyper-V Denial of Service Vulnerability | Important |
| Windows Installer | CVE-2021-1661 | Windows Installer Elevation of Privilege Vulnerability | Important |
| Windows Installer | CVE-2021-1697 | Windows InstallService Elevation of Privilege Vulnerability | Important |
| Windows Kernel | CVE-2021-1682 | Windows Kernel Elevation of Privilege Vulnerability | Important |
| Windows Media | CVE-2021-1710 | Microsoft Windows Media Foundation Remote Code Execution Vulnerability | Important |
| Windows NTLM | CVE-2021-1678 | NTLM Security Feature Bypass Vulnerability | Important |
| Windows Print Spooler Components | CVE-2021-1695 | Windows Print Spooler Elevation of Privilege Vulnerability | Important |
| Windows Projected File System Filter Driver | CVE-2021-1663 | Windows Projected File System FS Filter Driver Information Disclosure Vulnerability | Important |
| Windows Projected File System Filter Driver | CVE-2021-1672 | Windows Projected File System FS Filter Driver Information Disclosure Vulnerability | Important |
| Windows Projected File System Filter Driver | CVE-2021-1670 | Windows Projected File System FS Filter Driver Information Disclosure Vulnerability | Important |
| Windows Remote Desktop | CVE-2021-1674 | Windows Remote Desktop Protocol Core Security Feature Bypass Vulnerability | Important |
| Windows Remote Desktop | CVE-2021-1669 | Windows Remote Desktop Security Feature Bypass Vulnerability | Important |
| Windows Remote Procedure Call Runtime | CVE-2021-1701 | Remote Procedure Call Runtime Remote Code Execution Vulnerability | Important |
| Windows Remote Procedure Call Runtime | CVE-2021-1700 | Remote Procedure Call Runtime Remote Code Execution Vulnerability | Important |
| Windows Remote Procedure Call Runtime | CVE-2021-1666 | Remote Procedure Call Runtime Remote Code Execution Vulnerability | Critical |
| Windows Remote Procedure Call Runtime | CVE-2021-1664 | Remote Procedure Call Runtime Remote Code Execution Vulnerability | Important |
| Windows Remote Procedure Call Runtime | CVE-2021-1671 | Remote Procedure Call Runtime Remote Code Execution Vulnerability | Important |
| Windows Remote Procedure Call Runtime | CVE-2021-1673 | Remote Procedure Call Runtime Remote Code Execution Vulnerability | Critical |
| Windows Remote Procedure Call Runtime | CVE-2021-1658 | Remote Procedure Call Runtime Remote Code Execution Vulnerability | Critical |
| Windows Remote Procedure Call Runtime | CVE-2021-1667 | Remote Procedure Call Runtime Remote Code Execution Vulnerability | Critical |
| Windows Remote Procedure Call Runtime | CVE-2021-1660 | Remote Procedure Call Runtime Remote Code Execution Vulnerability | Critical |
| Windows splwow64 | CVE-2021-1648 | Microsoft splwow64 Elevation of Privilege Vulnerability | Important |
| Windows TPM Device Driver | CVE-2021-1656 | TPM Device Driver Information Disclosure Vulnerability | Important |
| Windows Update Stack | CVE-2021-1694 | Windows Update Stack Elevation of Privilege Vulnerability | Important |
| Windows WalletService | CVE-2021-1686 | Windows WalletService Elevation of Privilege Vulnerability | Important |
| Windows WalletService | CVE-2021-1681 | Windows WalletService Elevation of Privilege Vulnerability | Important |
| Windows WalletService | CVE-2021-1690 | Windows WalletService Elevation of Privilege Vulnerability | Important |
| Windows WalletService | CVE-2021-1687 | Windows WalletService Elevation of Privilege Vulnerability | Important |
---
Source: -swalf-38-sexif-yadseut-hctap-1202-yraunaj-tfosorcim/tfosorcim/swen/moc.retupmocgnipeelb.www